PageHeaderImage

Easy 24/7 contactless pickup is available now!
Place holds and pick up items at your convenience with our lockers set up throughout the county. 
North Pointe Smart Lockers
Image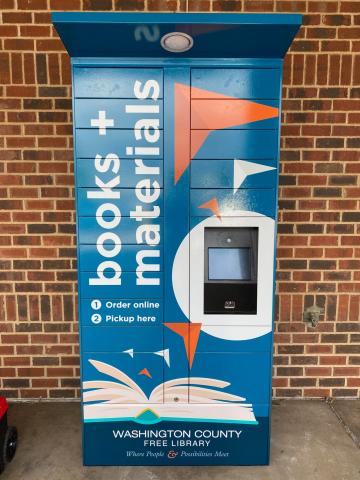 The North Pointe Locker is a smart locker system located at the North Pointe Shopping Center in Hagerstown (18745 North Pointe Drive near the anchor store location closest to Pennsylvania Ave). There are 16 smaller lockers and two larger lockers; items will automatically be placed in one or several lockers depending on the number of items being picked up.
Please call Circulation Department staff at 301-739-3250 if you need an ADA locker or are unsure about certain items (WMRL Book Club Kits, oversize items, etc.) are available for locker pick-up.
When placing a hold, select North Pointe Lockers as your pick-up location. You will receive a notification when your items are available to be picked up at the locker. Items will be available in the locker for 48 hours after the notification is sent. 
Follow the on-screen prompts at the smart locker to scan or enter your WCFL library card number. The correct locker doors will automatically open so you can take your checked out holds. 
Shut the locker door completely as you leave. A notification with the item due dates will be sent to you via email or text, or you can check your account online for due dates. 
A book drop is also available at the North Pointe location for easy return of materials. Items returned here will appear on your account until the location is serviced again but no fines will accrue on your account. Please note that Inter-Library Loan items can not be picked up with this locker system.
Branch Locker Holds Pick-Ups
The Boonsboro, Hancock, Smithsburg & Williamsport branches of the Washington County Free Library have outdoor combination lockers available for contactless and after hours pick-up of library materials.
Let branch library staff know that you would like to pick up your items using the lockers and they will guide you through the process.